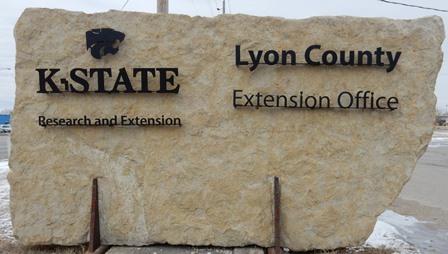 Welcome to K-State Research and Extension
Lyon County
Lyon County residents are encouraged to participate in this survey to be in position to capitalize on potential federal funding for infrastructure improvement – in this case broadband internet throughout the county – through the American Rescue Plan. KVOE story and interview, including link to an internet speed test, is here. We understand that by definition if your only internet access is through a mobile device and fiber cable does run to your house, you are not served.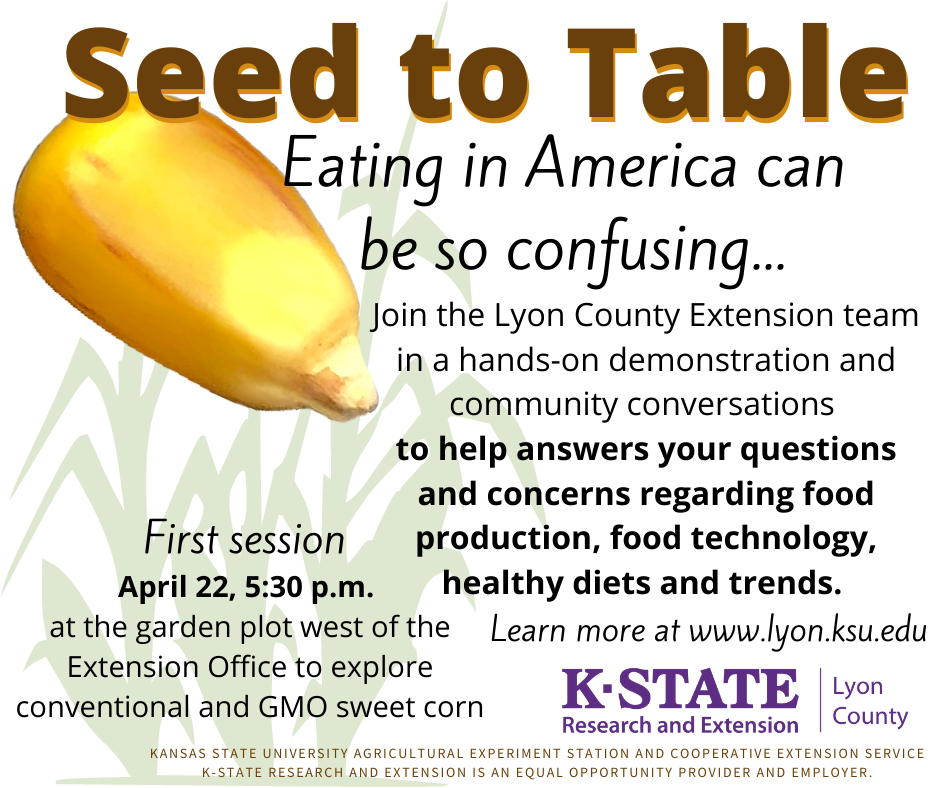 Seed to Table: a community conversation
News-based, research-based, policy driven or marketing angles – when the gamut of factors are taken into account regarding what diet recommendations to follow, what foods are safe, where you should purchase food or even how you should grow food, it's really not surprising that America's food supply can be misunderstood.
Your local K-State Research and Extension – Lyon County team knows how important food decisions are to you, your family and our community.
It's no secret. Kansas plays a major role in world agriculture, food production and the research behind our food supply. From the land-grant university to National Bio and Agro Defense Facility, and the millions of farmable and grazable acres to small specialty crops, Kansas is the heart of food production.
Even though Kansas has a significant impact on world food, many Kansans are removed from agriculture and have little to no experience in first-hand food production. Because of this, it's even more challenging to understand the research, science and technology behind our food supply and often leaves consumers making important decisions based on consumer marketing and emotion and not facts.
A common term you may have heard or seen via marketing is GMO. It's hard to miss the NON GMO Project logo that is on hundreds of thousands of products on grocery store shelves. But do you know how many GMO crops are actually grown in the United States?
Organic claims are also commonplace in marketing and promotion. But do you know the guidelines the United State Department of Agriculture (USDA) sets for products to make an organic claim?
In an effort to open discussion and focus on non-biased research-based, hands-on learning about food production, your local K-State Research and Extension team invites you to share in a hands-on demonstration. Beginning April 22, we will be observing sweet corn demonstration plots where we will be growing conventional sweet corn and a sister sweet corn that is a GMO crop. And don't worry if you aren't familiar with conventional or sister crops. We hope by exploring from the seed level all the way to your kitchen table, our community can learn together, find fact-based answers and understand more about how food is grown in Kansas and the world.
Community members from young to old are encouraged to attend this conversation and demonstration about food production. Special classes are planned to focus on specific topics, and we hope that as the sweet corn demonstration grows, so will the depth of our community conversation. The garden will also be home to a few additional garden crops that will focus on healthy eating and trends in food preparation, including fermentation.
Conversations will be hosted outside at the garden plot just west of the Extension Office Building at 2632 W Hwy 50. Bring your own lawn chair to each event.
Pending weather, the following events are scheduled:
April 22, 5:30 p.m. – Celebrate Earth Day with us! See what conventional and GMO sweet corn seeds look like and learn about the GMO crops grown in America.
May 5, 5:30 p.m. – What's bugging?... What bugs are concerns in various crops and how does crop management differ in various growing situations. Celebrate Cinco de Mayo in the garden with Black Bean and Corn Salsa during this session.
May 19 5:30 p.m. – Chat about food… trends like gut health and the foods you eat will be the topic of conversation. This session will also include a workshop on fermentation and participants will have the opportunity to receive supplies to practice this process at home.
June 3 5:30 p.m. – Food marketing…. Conversations will focus on reading product labels for nutrition and also look at marketing statements and claims.
June 24 5:30 p.m. – Food policy… The decisions we make today will impact what the world eats. What role does local food practices play?
July 15 5:30 p.m. – Corn Harvest! If growing conditions are favorable, this session will share GMO and conventional sweet corn results with our community. Come see for yourself what these crops look like and enjoy the harvest with us.
This program is made possible with funding from a Frontier Farm Credit Working Here Fund grant.
K-State Research and Extension – Lyon County Community Wellness Agent and Registered Dietician Emily Prouse
K-State Research and Extension – Lyon County Agriculture and Natural Resources Agent Brian Rees
K-State Research and Extension – Lyon County Horticulture and Community Development Agent Travis Carmichael
K-State Research and Extension – Lyon County 4-H Youth Development Agent Corinne Patterson
Extension is a place to obtain researched based information to help make informed decisions in our lives. Here in Lyon County there are four Extension Agents specializing in the areas of Agriculture and Natural Resources, Family and Consumer Science, 4-H Youth Development, and Horticulture and Community Development. These Agents are here to answer your questions within the focus areas listed above. From lawn and garden to crop production, food preservation, livestock management and 4-H Youth Development, there is an Extension Agent here to answer your questions.
Upcoming Events