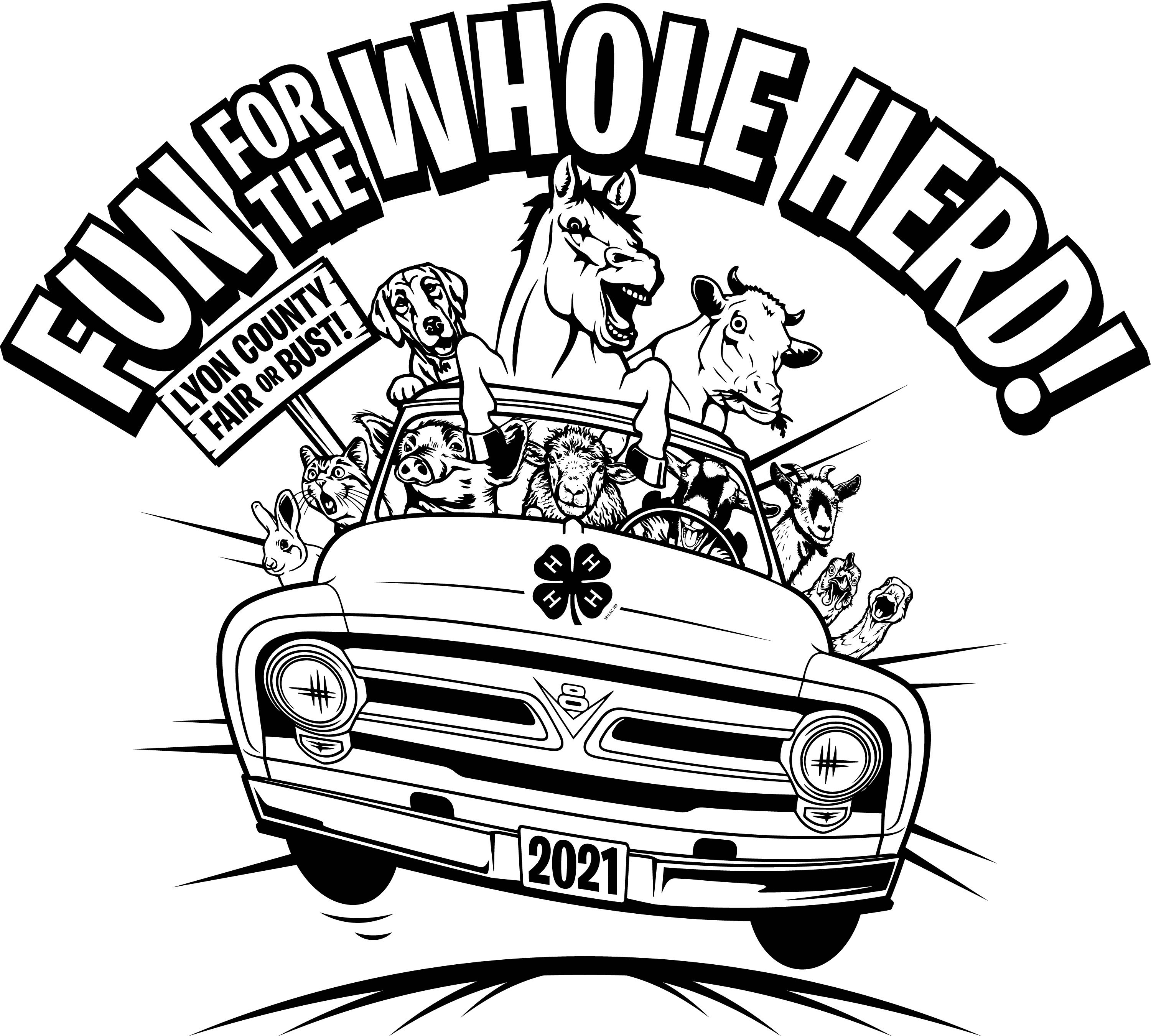 The 2021 Lyon County Fair book is published. The electronic version is available, as well as printed copies that can be picked up at the Extension Office or at various businesses in town. Please be sure to check out all the project departments your 4-Her intends to exhibit in. It's important to pre-entry what your 4-Her plans to bring by the July 1 deadline, but please do not over enter. Judging schedules and number of judges is determined in part due to pre-entries, so please do not enter projects you will not complete for this year's fair.
Pre-entry for the 2021 Lyon County Fair 4-H exhibits is now open via the online Blue Ribbon system. (Please note this is not the 4-H Online system you used to enroll your 4-Her.)
Be sure to read your fair book carefully for class options and info and talk with your 4-Her about what they will be able to accomplish to exhibit at the Lyon County Fair. Please do not pre-enter them in every category just to be safe; make decisions and set goals and enter based on those intentions. But if you do not pre-enter before the July 1 deadline, your 4-Her will not be able to exhibit in that project area, so be sure to use the fair book to help make decisions and enter in all that your 4-Her wants to participate. The fair book has information based on what day departments are judged under each area. Please be sure to pay attention that we have spread out judging of some Anderson Building projects to maintain safter gatherings and give space and time for those judging.
To enter in the 2021 4-H division of the Lyon County Fair, visit https://www.BlueRibbonFair.com/BRFairProd/BlueRibbonStart.aspx?ID=1489
Check out this Help Document for information on how to create your 4-Her/family account in Blue Ribbon.
A schedule of events is available in the fair book.

Live Stream Coverage of the 2020 Fair
These shows will be live streamed on KVOE TV:
Beef
Bucket Calf
Dairy
Goat
Sheep
Pig
To view the shows, please click on the KVOE link below.

For all other shows and Anderson Building Judging will have live coverage and photos posted to our
K-State Research and Extension Facebook page.
Click on the Facebook Logo below to visit our page!

4-H families: Please check out this schedule --
4-H Judging Details and Schedule as of July 28, 2020 (please note this schedule could change)
2020 Lyon County Fair book (7.1.20)
2020 Lyon County Fair schedule (7.24.20)
Please note the above information continues to change. We will update these documents as more information is available.
To help families know what requirements a guidelines are used for class entries in various departments, please reference this digital copy of the 2019 Lyon County Fair book.
The Blue Ribbon Lyon County Fair Online Pre-entry program is accepting entries! Please be sure to read your fair book carefully before making entries. A guide has been made to help create family accounts, so please take time to check out tips and tricks to make the process even easier.
Before you make your livestock entries, please have your tag numbers ready. You'll want to enter all livestock with the correct 4-H tag to be shown by that 4-Her. If necessary, animals may be substituted for a 4-Her so long as a properly virtually tagged animal is substituted for the 4-Her, but 4-Hers should have a good idea of which animal(s) they intend to show in a specific class as the fair.
All entries will be made in the online system, including Rodeo, Rabbits and Poultry, livestock and Anderson Building exhibits.
Due to RHDV2 affecting the rabbit population, the rabbit show will be hosted virtually. All classes may not be available, but it is best to enter in classes you intend to show in, and watch for more information as a virtual plan is devised. Please limit your entries to what your 4-Her feels most strongly about exhibiting as we will likely impose limitations if our families do not make the decision themselves.
If you want livestock insurance please come into the Extension Office to pay by 5 p.m. on July 15. Insurance is $7 per animal.
All 4-H families will have to create a new account to pre-enter in the 2020 Lyon County Fair.
Check out the entry guide from 2018 as it's the same process for 2020: Tips for Online Fair Pre-Entry
Some division and classes at the fair, like non-perishable foods items or visual arts, allow you to enter one or more in the same class. Be sure to click on the entry twice if you plan to bring two items in a class, if it is allowed. It's also the same for two market animals. The number of entries and number of items you plan to bring should be the same. For 2020, some departments have class entry limitations. You will need to be sure to be aware of the maximum number of items in departments.
The online Lyon County Fair pre-entry program is accessible at: Lyon County Fair Blue Ribbon Entry Program
Foods and Nutrition baking tips
Check out these Tips for 4-H Baking to help 4-Hers prepare baked items for judging at the Lyon County Fair! The fair book, linked above, has a lot of good information regarding food entries as well. Don't forget to read the fair book for all fair information and project requirements.