2023 Lyon County Fair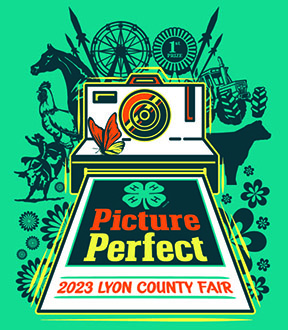 The 2023 Lyon County Fair book is at the printer. The electronic version is available, as well as printed copies that can be picked up at the Extension Office or at various businesses in town. Please be sure to check out all the project departments your 4-Her intends to exhibit in. It's important to pre-entry what your 4-Her plans to bring by the July 1 deadline, but please do not over enter. Judging schedules and number of judges is determined in part due to pre-entries, so please do not enter projects you will not complete for this year's fair.
Pre-entry for the 2023 Lyon County Fair 4-H exhibits is open via the online Blue Ribbon system. (Please note this is not the 4-H Online system you used to enroll your 4-Her.)
You will need to create a new account this year and pre-enter in all project areas your 4-Her(s) wish to exhibit. Each and every item needs to have an entry, so if for example your 4-Her plans to bring to small vegetables, you must pre-enter twice in that same class. You can log back in to the Blue Ribbon system once you've created an account to add entries or double check until July1. Please make sure you don't wait until the last minute!
Be sure to read your fair book carefully for class options and info and talk with your 4-Her about what they will be able to accomplish to exhibit at the Lyon County Fair. Please do not pre-enter them in every category just to be safe; make decisions and set goals and enter based on those intentions. But if you do not pre-enter before the July 1 deadline, your 4-Her will not be able to exhibit in that project area, so be sure to use the fair book to help make decisions and enter in all that your 4-Her wants to participate. The fair book has information based on what day departments are judged under each area. Please be sure to pay attention that we have spread out judging of some Anderson Building projects to maintain safter gatherings and give space and time for those judging.
To enter in the 2023 4-H division of the Lyon County Fair, visit the Blue Ribbon site! Pre-entry is due by July 1!
Check out this Help Document for information about creating your 4-Her/family Blue Ribbon account.
Foods and Nutrition baking tips
Check out these Tips for 4-H Baking to help 4-Hers prepare baked items for judging at the Lyon County Fair! The fair book, linked above, has a lot of good information regarding food entries as well. Don't forget to read the fair book for all fair information and project requirements.