2023 Lyon County Fair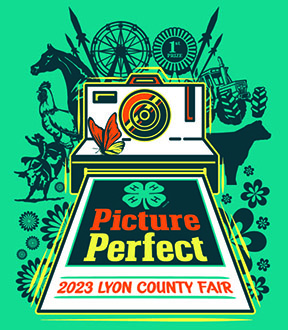 Order your Lyon County Fair T-shirt via this Google form before June 16. You must bring in payment before 5 p.m. June 16 for your order to be placed. No orders that are not pre-paid will be placed!
The 2023 Lyon County Fair book is at the printer. The electronic version is available, as well as printed copies that can be picked up at the Extension Office or at various businesses in town. Please be sure to check out all the project departments your 4-Her intends to exhibit in. It's important to pre-entry what your 4-Her plans to bring by the July 1 deadline, but please do not over enter. Judging schedules and number of judges is determined in part due to pre-entries, so please do not enter projects you will not complete for this year's fair.
Pre-entry for the 2023 Lyon County Fair 4-H exhibits is open via the online Blue Ribbon system. (Please note this is not the 4-H Online system you used to enroll your 4-Her.)
You will need to create a new account this year and pre-enter in all project areas your 4-Her(s) wish to exhibit. Each and every item needs to have an entry, so if for example your 4-Her plans to bring to small vegetables, you must pre-enter twice in that same class. You can log back in to the Blue Ribbon system once you've created an account to add entries or double check until July1. Please make sure you don't wait until the last minute!
Be sure to read your fair book carefully for class options and info and talk with your 4-Her about what they will be able to accomplish to exhibit at the Lyon County Fair. Please do not pre-enter them in every category just to be safe; make decisions and set goals and enter based on those intentions. But if you do not pre-enter before the July 1 deadline, your 4-Her will not be able to exhibit in that project area, so be sure to use the fair book to help make decisions and enter in all that your 4-Her wants to participate. The fair book has information based on what day departments are judged under each area. Please be sure to pay attention that we have spread out judging of some Anderson Building projects to maintain safter gatherings and give space and time for those judging.
To enter in the 2023 4-H division of the Lyon County Fair, visit the Blue Ribbon site! Pre-entry is due by July 1!
Check out this Help Document for information about creating your 4-Her/family Blue Ribbon account.
4-H Clover Award
The 4-H Clover Award is a new cash scholarship award available to all Lyon County 4-Hers who exhibit in the Anderson Building in at least three different project areas. All age divisions are eligible to be considered. You simply need to nomintate your 4-Her if they are qualified for consideration. Please review the information about this award. If you have additional questions, please call the Extension Office or come in for a visit.
To nominate your 4-Her for the 4-H Clover Award, complete this Google Form.
Each exhibitor will be evaluated for quality of entries, not necessarily quantity. It won't be based on ribbon placing of each entry, but the individual evaluation of a judge whose specific job is to make this selection (similar to the herdsmanship award/selection process in the livestock barns).
A rubric will be developed for judges to score based on:
▪ Consistency in quality based on age expectation
▪ Age appropriateness (would a 4-Her that age be able to complete that work?)
▪ Originality of entries
▪ Educational value (does it show the community what 4-H youth learn in the project area)
▪ Diversity in entries (do the entries so the 4-Her worked in various project areas or tried drastically different techniques in a single department)
Gary Fuller Spring Classic, May 6-7, 2023
The Gary Fuller Spring Classic is May 6-7 in Emporia, KS. Sheep, goats and cattle on May 6 and pigs on May 7. Day of show entries are accepted, but save money and time by pre-entering before April 21. Check out the show flyer for more information. We look forward to seeing you in Emporia!
Lyon County 4-H Master Calendar
Are you looking for opportunities to get involved in Lyon County 4-H or want to be sure you aren't missing an important deadline? One way to stay informed is to check out our Lyon County 4-H Master Calendar. While it's not a guarantee every important piece of information or deadline is on the calendar, it's a great place to check regularly for upcoming deadlines and learning opportunities for all Lyon County youth. And while the Master Calendar is a great tool, properly re-enrolling or enrolling in 4-H via 4-H Online (https://v2.4honline.com/) also helps ensure that you receive communication from the Lyon County Extension Office. If you are not enrolled, you are missing out! Don't forget to attend your monthly club meetings and county-wide project meetings. You will also learn more and be reminded of important deadlines by being active in your community club!
Click on the Calendar below to visit the Master Calendar! Be sure to bookmark this link!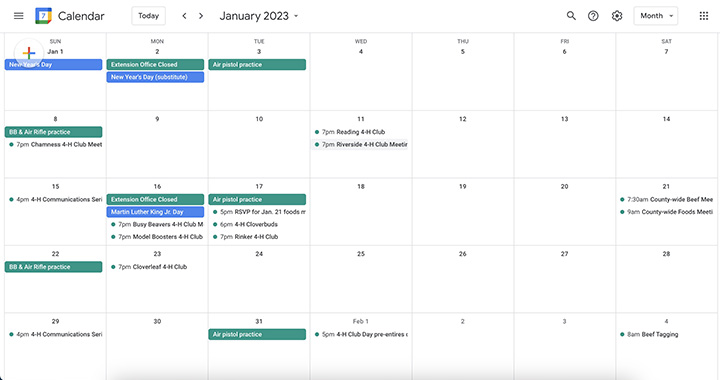 Local Scholarships for Rock Springs 4-H Camp
Lyon County 4-H Council, the Carter Memorial, Young Farmers and Young Farm Wives and the Gail Milroy Memorial scholarships are available to Lyon County 4-Hers who will be attending 4-H camp at Rock Springs this summer. This is the first year 4-Hers from across the state are selecting the camping session that best fits their own summer plans. If you haven't looked into the awesome camping opportunities at Rock Springs 4-H Camp, be sure to check out their website.
Local scholarship applications are due to the Lyon County Extension Office on Monday, May 15, 2023, by 5 p.m. Please check out the application form for more information.
Lyon County 4-H Scholarships
Lyon County 4-H seniors can apply for local scholarships through Feb. 24, 2023. Please check out the application for requirements and details on how to apply. No late appilcations are accepted, so do not delay!
Generous scholarships to be awarded in 2022 include:
Bluestem Farm and Ranch Supply of Emporia ($300.00 nonrenewable)
Larrie Miley Scholarship ($500.00 renewable)
Marjory Fowler Memorial Scholarship ($200 renewable)
Marcia Arndt Memorial Scholarship ($100) Must be awarded to High School Senior
P. Kay Duncan Memorial Scholarship ($200 nonrenewable) Emphasis on the horse project
4-H Alumni Scholarship ($250 nonrenewable)
Lyon County Fair Board Scholarship ($250 nonrenewable) Must have exhibited at the Lyon County fair for the last five years
Lee Nelson Memorial Scholarship ($500)
Houck Family Scholarship ($300)
For those intersted in applying for state level scholarships, check out information on the state website. Applications are due no later than March 1, 2023.
4-H youth interested in wildlife and also attending Emporia State University, check out the What's in the Outdoors 4-H scholarship available through the Emporia Community Foundation. Applications are due May 1.
Opportunities waiting for update
4-H Financial Fitness Award
The 4-H Financial Fitness Award is a special project award that provides cash scholarships to Lyon County 4Hers who apply their financial lessons to a presenation that they will give sometime during the pre-fair or fair judging window (date and time still to be determined). Please review the information about this award. Here's short summary.
Goal: To promote and educate financial literacy throughout the 4-H community in order to help our club, community, country, and world.
Successful projects will show creativity in their presentation, and discuss in-depth any financial topic they find interesting (retirement, budgeting, business plan, credit, stock market, fintech, etc.)
Any form of presentation is permitted. (poster board, media, video, audio)
Answers the following questions:
- How does this topic effect you and your community?
- What will you do with this information?
- How can you share this information with others?
- What is something you learned?
To sign up for the 4-H Financial Fitness competition (judging TBD), complete this short form.